"Congratulations! You've passed your application and we are happy to offer you position X. Please find below your job salary and other information."
For any jobseeker, there are often no words that can best describe the feeling of reading these words after a grueling job application. But along with the excitement comes the very difficult but all-important next step — will you accept, reject, or negotiate that well-earned job offer?
Often, salary is the factor that will make or break an offer. It at par with industry standards?
We introduce you to the JobStreet Explore Salary, which can answer these questions for you, and more.
Also read: Did You Ask These Questions Before Accepting A Job Offer?
What Is JobStreet Explore Salary
JobStreet Explore Salary is a tool that tells jobseekers the average salary for a role to know if you are being overpaid, underpaid, or paid just right. It's one of many tools offered by JobStreet's Explore Careers, which is a one–solution page where applicants can learn more about a job–and make wiser career decisions.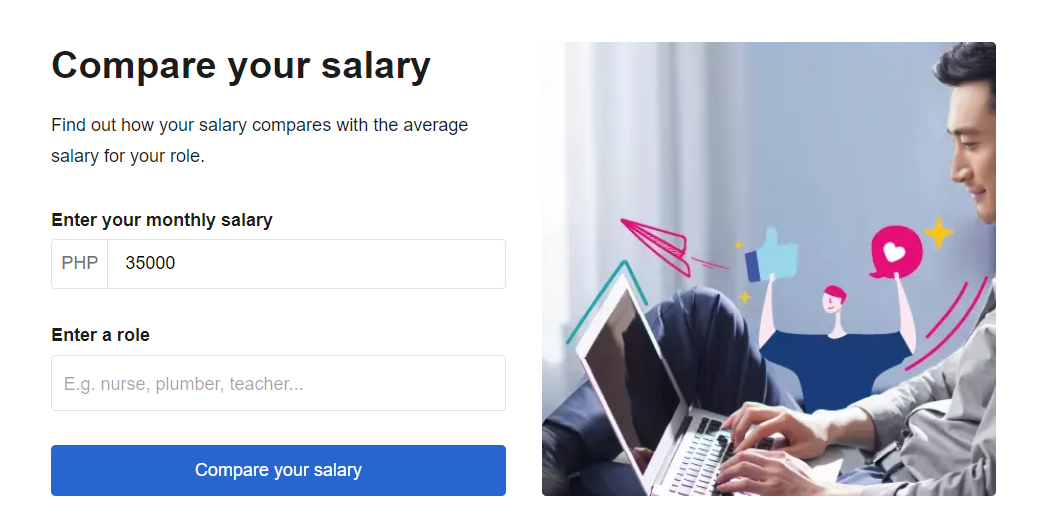 For this to be possible, jobseekers should have access to a resource that tells them sufficient information about what they'll be taking home each payday. That is, by showing comprehensive salary insights based on job ad data from JobStreet.
Specifically, with JobStreet Explore Salary, jobseekers will gain knowledge on the following:
Average monthly salaries for over 700 roles
Where your salary compares against the average salary for your role
Roles with the highest salary growth in various industries
Highest-paying states
Job opportunities available now
Also read: Did You Ask These Questions Before Accepting A Job Offer? You Should.
How To Compare Your Salary
As long as you have the above-mentioned information, you will know if a job is worth pursuing–or if it's better for you to seek better opportunities elsewhere. Alternatively, with the information you have courtesy of the salary comparison tool, you can be more confident to negotiate the offer to fit your expectations better.
JobStreet Explore Salary is accessible through JobStreet's official website and downloadable via Apple Store or Google Play. After logging onto the relevant platforms, simply follow these instructions:
Go to Career Advice.
At the top of the page, enter your current or preferred monthly salary and role.
Press "Compare your salary".
Below are sample results across different roles.
Sample Comparison in the Philippines
Registered Nurse salary
Monthly: Php 20,000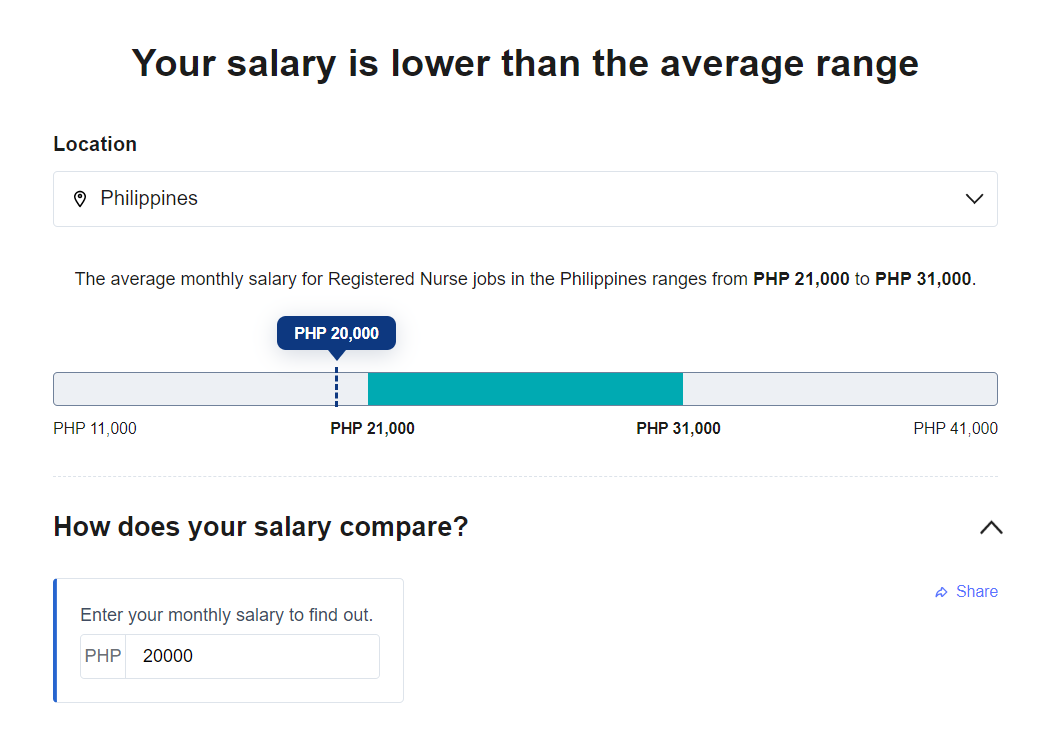 The above example shows that the average range for Registered Nurse salary in the Philippines is Php 21,000 to Php 31,000. So if you're earning Php 20,000 for the role, you are earning less than what you should be receiving. An extra Php 1,000 may not be a lot. But it will put you into the range so you can stay competitive.
If you're a Registered Nurse, find job opportunities here.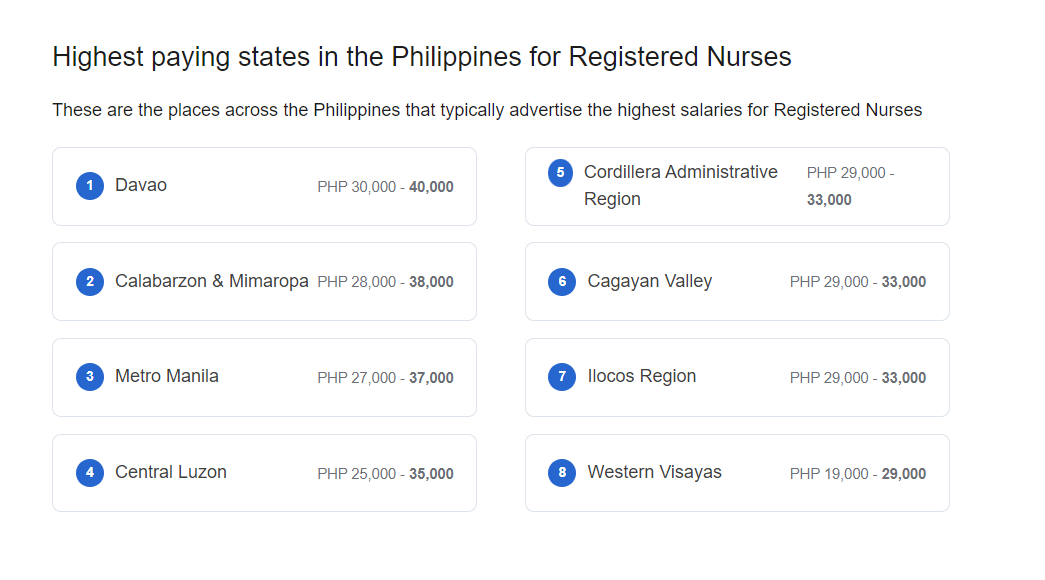 The results also reveal that Davao pays the highest to Registered Nurses than other destinations, including Metro Manila. The Calabarzon and Mimaropa regions are also rewarding places to work as a Registered Nurse as the average minimum salary is at Php 28,000. Meanwhile, Western Visayas is one of the least paying provinces for the role, including Aklan, Iloilo, and Negros Occidental.
Marketing Manager salary
Monthly: Php 75,000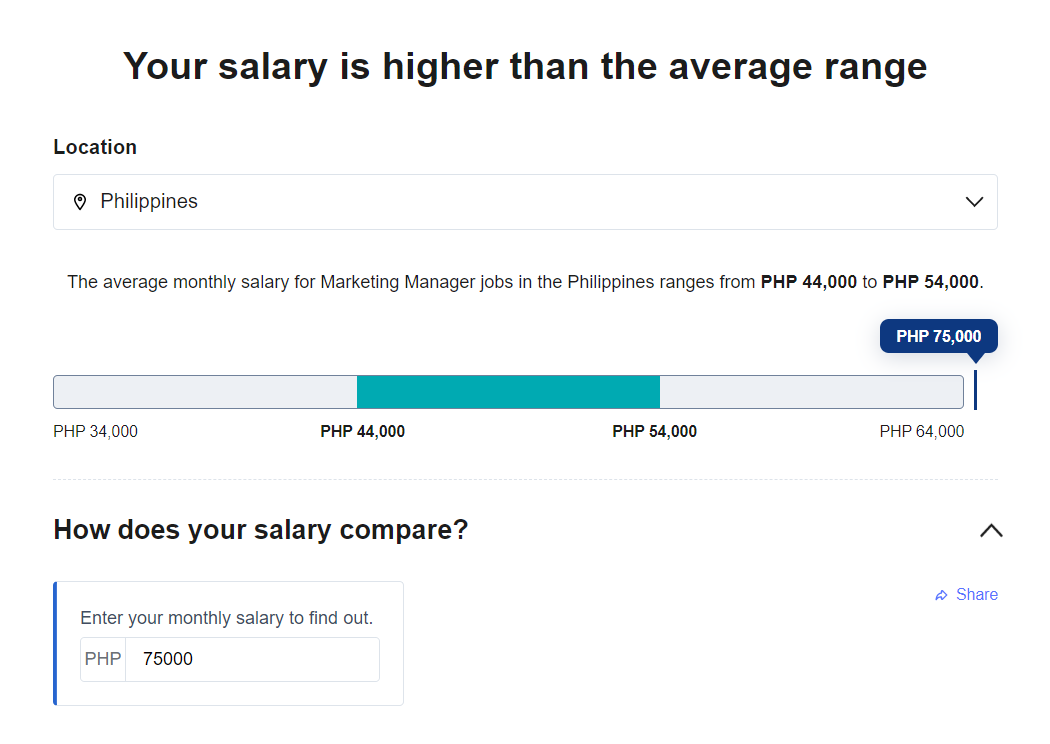 Marketing Managers in the Philippines earn somewhere between Php 44,000 and Php 54,000. This means that someone who earns Php 75,000 are getting approximately 39% more than the average maximum for the position.
If you're a Marketing Manager, find job opportunities here.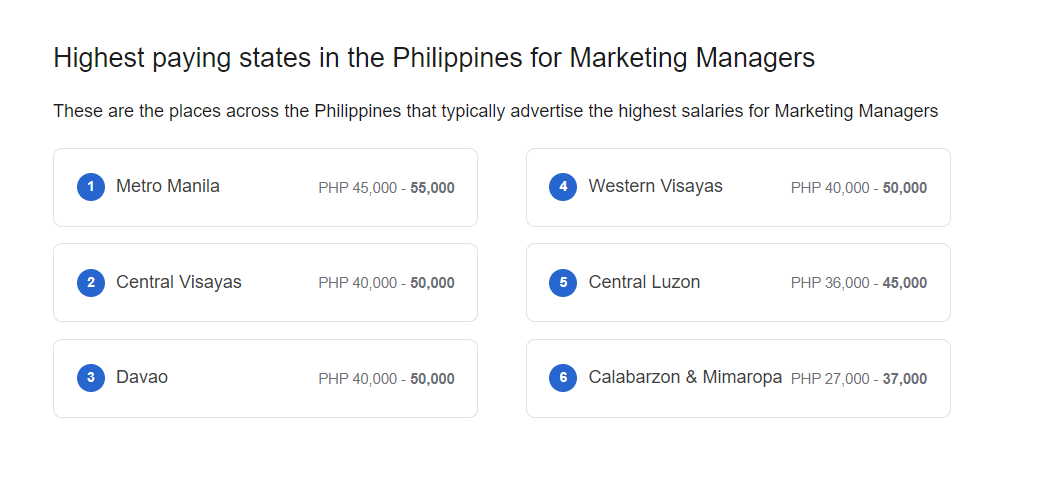 The best place to work as a Marketing Manager in the Philippines is Metro Manila, an area that offers a high concentration of these roles given the diversity of opportunities here. The same role can also earn relevantly well in Visayas, specifically in the Central and Western areas. The minimum salary these places offer is Php 40,000.
Accountant salary
Monthly: Php 35,000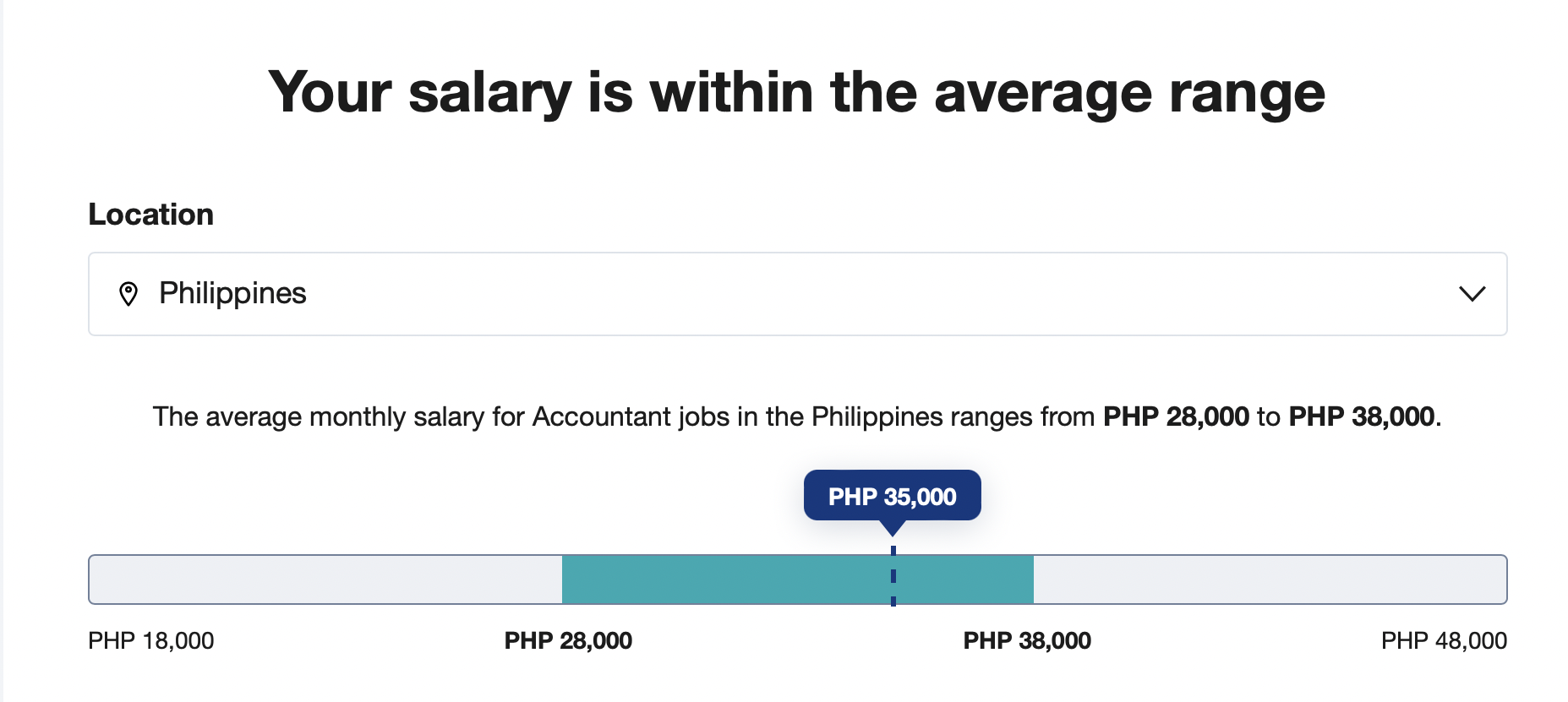 Are you working or planning to work as an Accountant in the Philippines with a monthly pay of Php 35,000? Insights from Explore Salary say that you're earning just right, as the average salary for the role is between Php 28,000 to Php 38,000. This means that you're still within the range and are neither under nor overpaid for the position.
If you're an Accountant, find job opportunities here.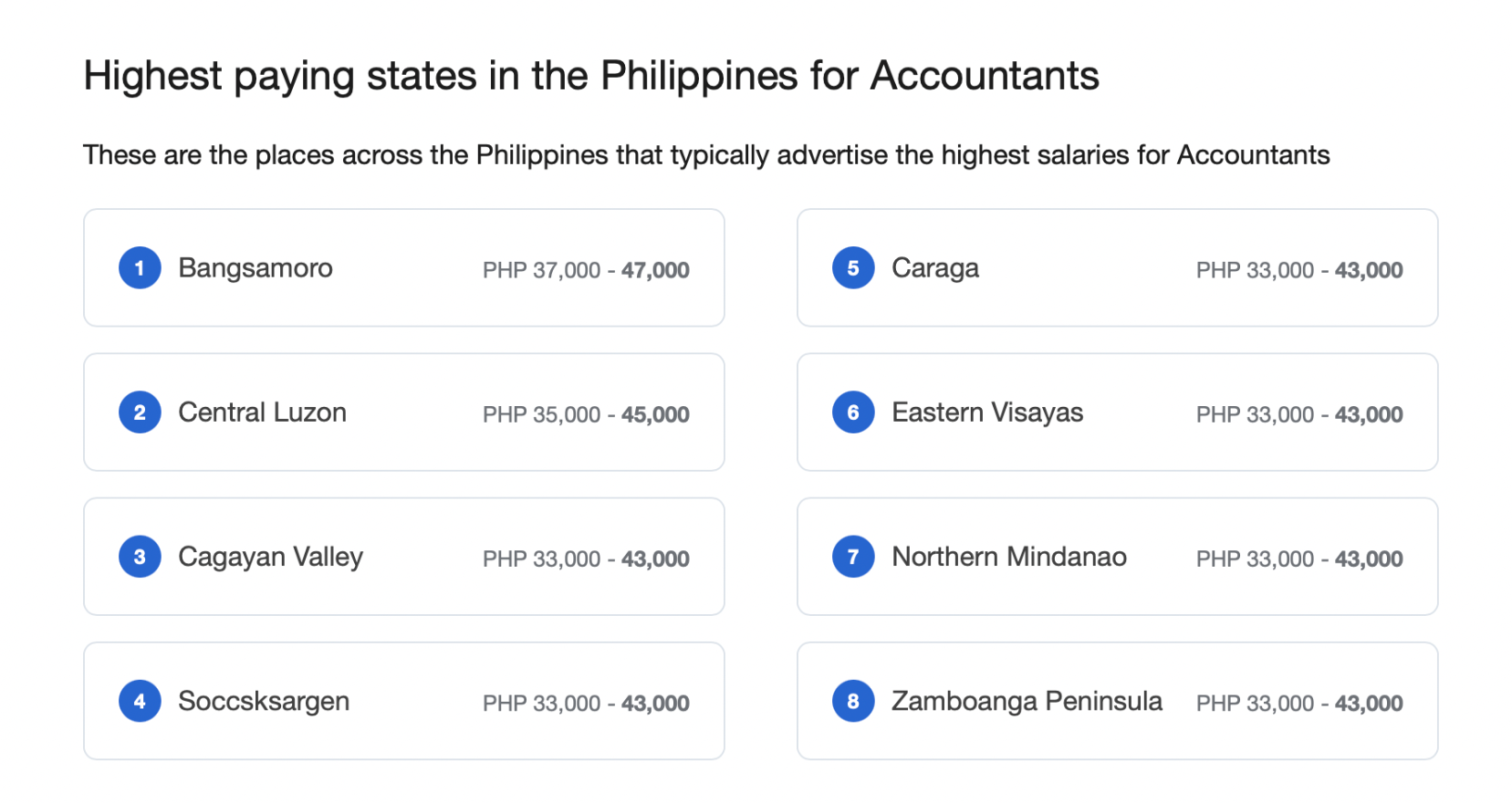 As for places to find work as an Accountant in the Philippines, Bangsamoro is by far the most recommended in terms of pay, with a maximum average salary of Php 47,000. Central Luzon is likewise ideal as the minimum pay is also still within range.
Teacher salary
Monthly: Php 15,000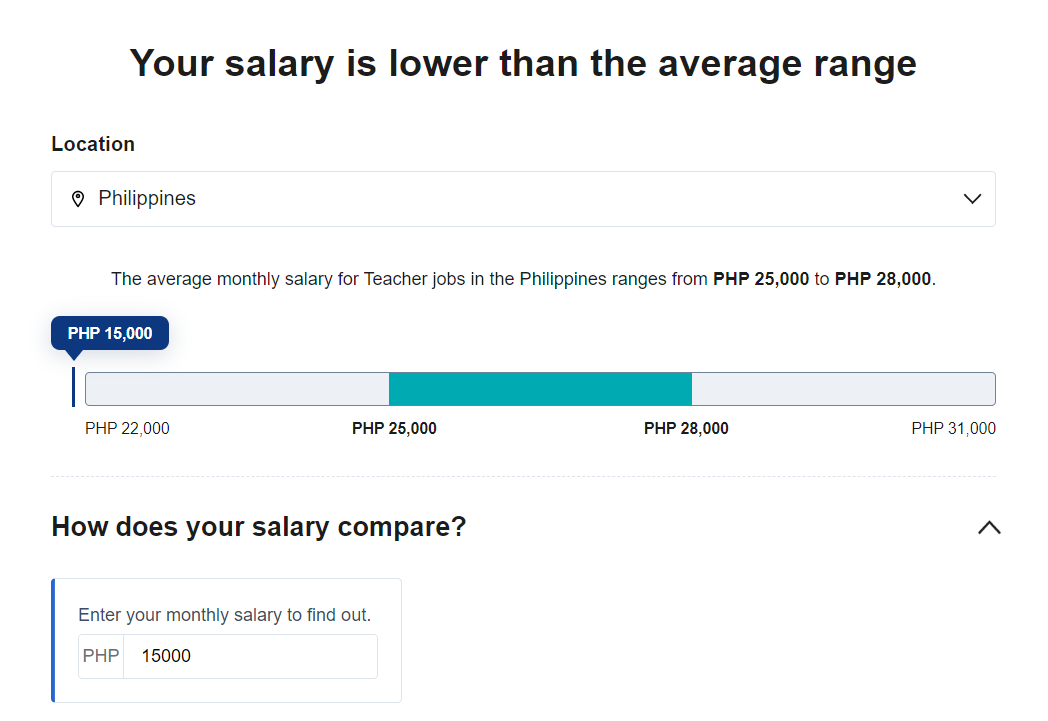 Teachers in the Philippines earn an average of at least Php 25,000 per month. That means that those getting a monthly pay of Php 15,000 are hugely underpaid by roughly 40% from the minimum salary. Meanwhile, the highest you should be earning for the role is Php 28,000. You should also consider other factors such as what level you are teaching and if the school is a public or a private institution.
If you're a Teacher, find job opportunities here.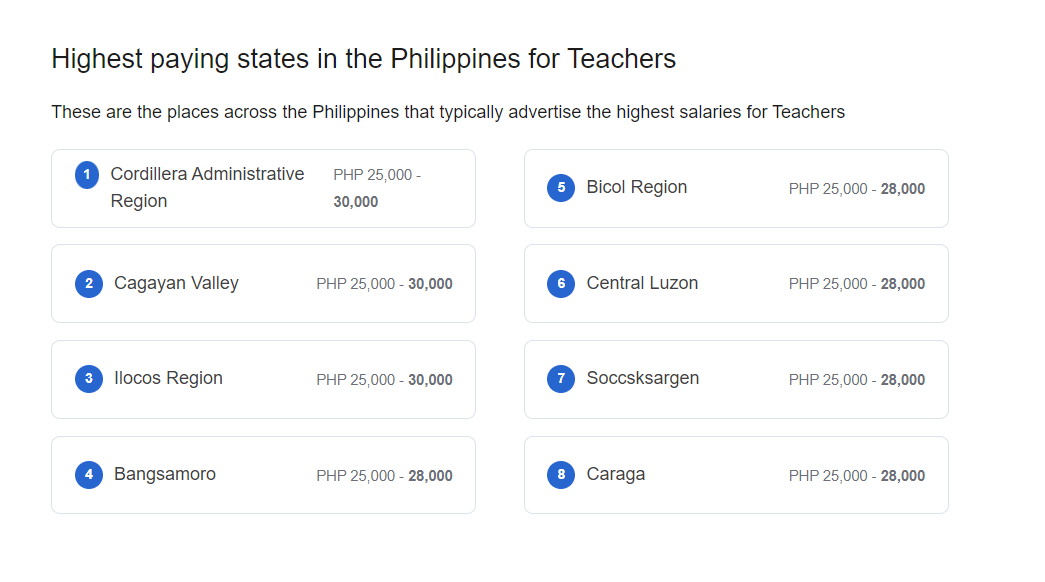 JobStreet Explore Salary further suggests that the average salary range of Php 25,000 to Php 28,000 is common in many locations in the country. However, if you are aiming for an even higher salary than the range, the Cordillera Administrative Region, Cagayan Valley, and Ilocos Region are worth looking into.
Civil Engineer salary
Monthly: Php 40,000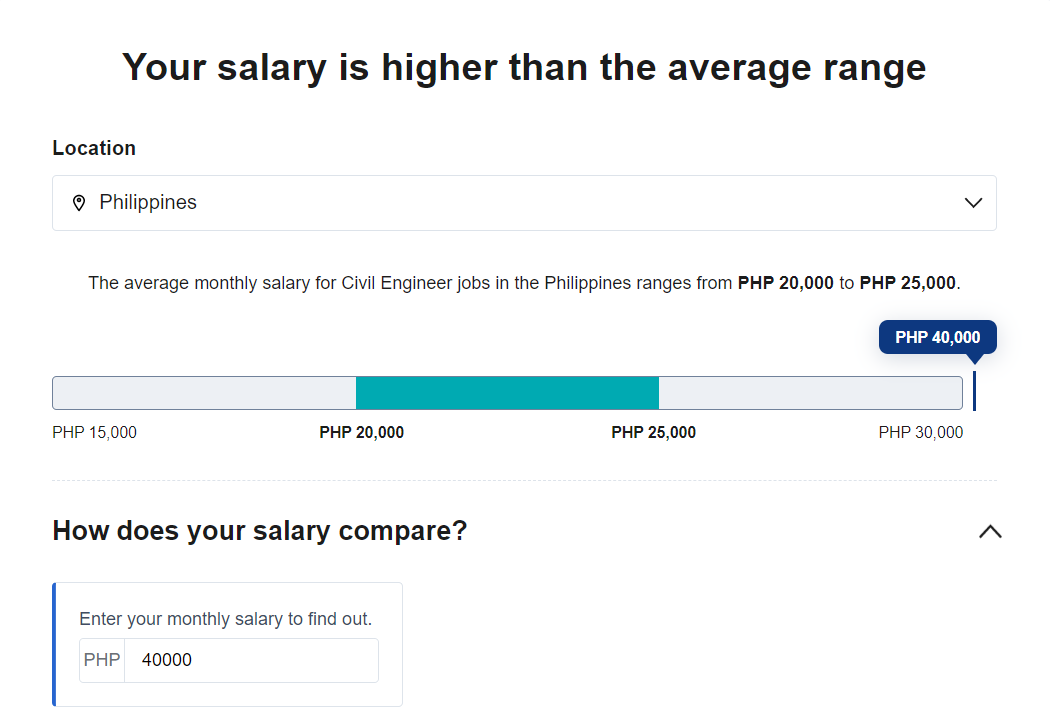 Philippine companies are paying Civil Engineers between Php 20,000 and Php 25,000, or an average of Php 22,500 monthly. But it's possible that you could be getting as high as Php 40,000 for the job, or even more if you plan to work for an international employer.
If you're a Civil Engineer, find job opportunities here.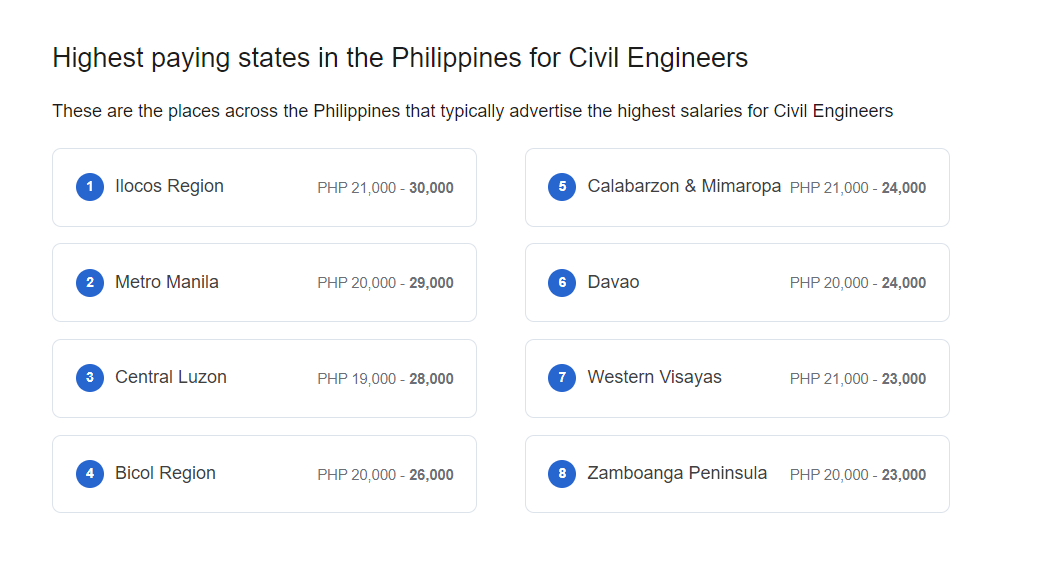 What about the best places to work as a Civil Engineer? In terms of salary alone, you should apply for jobs in Metro Manila. Here, you can earn up to an average of Php 29,000. On the other hand, you will only be paid somewhere between Php 20,000 and Php 23,000 when working in Western Visayas and the Zamboanga Peninsula.
What To Do After Using The Salary Comparison Tool
Now that you've learned how your salary compares with similar roles in other places, you will have a better insight as to how you should make your next move. Below are JobStreet's suggestions depending on the results of your average salary per role.
If your salary is lower than the average
Earning lower than your peers usually means that you're working for a company with a lower budget for the role. It could also be that your responsibilities differ slightly from others. Or there are other personal circumstances that might have led employers to offer them a higher pay. If this is the case, you can try renegotiating your salary or look for other employers.
If your salary is higher the average
When you're already earning or being offered more than what others in your role are getting, then it's a good opportunity for you to take advantage of your role and consider a longer tenure in the company. It shows that your employer cares for their employees enough to give them a generous salary.
If your salary is within the average range
What if you're receiving just the right amount of salary for your role? The ideal scenario would be to simply stay in the company. You can plan your promotion while focusing on your responsibilities at hand. You can also use this time to ask for a salary closer to the average maximum, if your responsibilities and experiences can justify it.
Why You Should Compare Your Salary
With better insights on what you're and should be earning, you can truly make the most of every job opportunity you have. The golden rule is and will always be to know your worth (literally and figuratively)! Money may not be the only factor in a worthwhile employment journey, but it will affect you a great deal.
#SEEKBetter career decisions, you can also discover other resources offered by JobStreet through Career Tools.
To give you the best chance of being noticed by hirers from the beginning, download these resume templates and cover letter templates. Or if you're thinking of resigning from your company, these resignation letter templates will help you do it professionally.
For more tips, visit Career Advice. To get started, download the JobStreet app on Google Play or App Store, and create or update your JobStreet profile.