It's standard practice for Filipino job seekers to physically relocate overseas. One of the enduring legacies of the pandemic, though, is the changed attitude to long-term remote employment. It is not only possible but valid and even preferable for some.

Together with the Boston Consulting Group (BGC) and The Network, JobStreet conducted Decoding Global Talent, a survey with respondents in 180 countries. According to the survey, 57% of global respondents were open to remote work for foreign companies, while only 50% were open to physical relocation. Rising nationalistic attitudes, immigration restrictions, and safety concerns are some of the factors encouraging global workers to stay close to home.

Out of the report's 109,000 global respondents, there were over 15,000 Filipinos. Of those, 49% of Filipinos said they prefer a career that lets them work remotely for a foreign country. Remote work is a great compromise. It allows Filipinos to reap the benefits of working for foreign companies, without having to relocate – a big plus in our family-centered culture.
What is remote work?
Remote work is anything done outside the traditional physical office environment, usually online. For many Filipinos, that means working from home or shared workspaces, with clients based in other countries. With the spread of chat, video platforms, and sometimes monitoring tools, "remote" now only refers to physical distance. Clients can be as present (or not) as they would be in a traditional setting.

Beyond that, remote work is a wide field. Some remote workers are from the BPO industry, or global companies with flexible working policies. They can be digital nomads or part of a growing economy of independent or project contractors bidding for jobs through freelance marketplaces. The latter arrangement is popular for virtual assistance, software development, CAD and other technical work, and professional services like accounting, creative services, etc.
Advantages of working remotely from home
Filipinos have a highly social, group-oriented culture, so remote work can take some adjustment. But there are definite advantages to being a global remote talent, not all of them financial.
Wider opportunities, more options.
Remote jobs are sometimes easier to apply for than traditional jobs, with virtual job interviews, fewer requirements, and red tape. You can set your own terms, offer your services to the highest bidder, and explore new work niches. You can take on new clients and projects as your time and skills allow.
Cost of living.
Despite rising prices, the Philippines' cost of living is still lower than in many countries, especially outside Manila. During the pandemic, many Metro Manila residents returned to their hometowns. There, they found a higher quality of life, at a lower cost. Remote work allows them to earn at the rate their skills deserve from anywhere with a stable internet connection.
Higher productivity.
Remote work frees you from the time, cost, and physical demands of a daily commute. Without it, you have more energy and focus. This means you can do more in your eight hours, or meet your deadlines faster and have more time for life outside work.
Flexible time.
Some remote jobs require only that you meet deadlines. Others have fixed hours but still offer more "wiggle room" than traditional office jobs. Many parents rotate their work shifts, for example, to carve out quality time for child care and personal responsibilities.
Autonomy and independence.
Remote work suits individuals with initiative, who thrive on working independently. Office distractions still exist, but they are minimized and much more manageable. As long as you can control your own distractions, a remote job allows you to work as and when you're at your best. Of course, you can also position, set up and equip your home office as you please.
The top 10 countries where Filipinos look for remote jobs
From what countries are Filipinos finding these amazing jobs? Based on responses to Decoding Global Talent, we are most interested in remote jobs that originate from ten countries: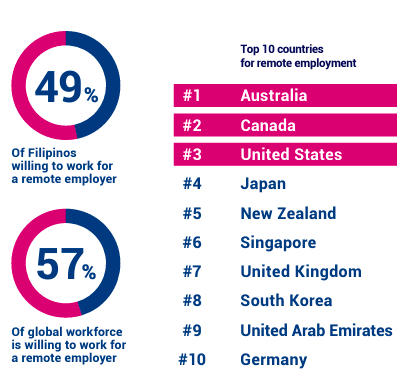 What draws Filipinos to remote jobs from these countries? Practicality, of course. These countries share a higher pay scale than ours for comparable jobs, and in most cases a more progressive work culture. From a career point of view, your projects may be more significant or have a wider impact; and working remotely as part of a global team should also improve your communication and collaboration skills.
What makes for an in-demand remote work destination?
English as the working language.
Australia, Canada, the US, New Zealand, and Singapore have the advantage of shared language and global culture. There are minor adjustments to any country's idioms and accent, but generally, Filipinos will understand discussions and can easily communicate with clients or colleagues.
Proximity
Singapore and South Korea share our time zone. Japan is one hour ahead, Australia three hours, and New Zealand five hours. For the latter two countries, this means your clients come online early, but your workday typically ends by mid-afternoon. Many Filipino "night owls", however, have adapted seamlessly to North American and European hours.
Migration potential
If you're considering migration but still have paperwork pending, look into a remote job with a company based in your future destination. You can assess (or prove) your skill level for that market, and your remote employer can either hire you once you arrive or pave the way for an easier transition.

One aspect that's not much of an advantage is taxation. All ten countries have tax treaties with the Philippines, toward avoiding double taxation. In most cases though, as a Filipino resident, your income earned here is still taxable, regardless of where your employer is based. Those taxes will depend on whether you're registered as a freelancer, and whether your employer has a Philippine presence. Consult an accountant or tax pro for your specific situation. It's well worth paying for professional guidance to avoid bigger hassles later on.
As companies and businesses settle into the post-pandemic economy, the future of work will be characterized by flexibility thanks to a hybrid setup.

If you're interested in trying remote work with a foreign company, take action today to boost your chances. On your own time and relatively affordable, online courses are a great way to gradually build your transferable skills without leaving your current job.

The pandemic is fading into the past, but the world of work has changed forever. Today's great job and fulfilling career may look very different from what we grew up expecting. They're out there, but it's up to us to go find them.

#SEEKBetterwork today! Update your JobStreet profile now and begin your search for remote job opportunities. Download the JobStreet app on Google Play or the App Store.